diagnostics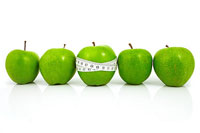 We use modern and verified methods and tests.
We cooperate with Faculty of Physical Culture (Palacký University in Olomouc).
Diagnostics comprises:
Assessment of the anthropometric parameters (body weight, waist circumference, BMI, WHR, body lean mass, total body fat mass, and body water…. by means of BodyStat (bioimpedance analysis).
Investigations of the autonomic nervous system by means of spectral analysis of heart rate variability.
Submaximal exercise test on ergometer for determination of the right zone of exercise heart rate.
Individual nutritional plan according to your preferences.